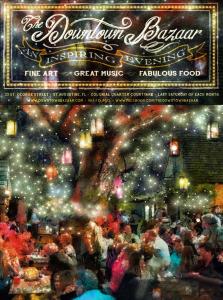 PRESS RELEASE

May 18, 2014
For Immediate Release
Contact: Stacey Sather
sgsdesign.mail@gmail.com



What: The Downtown Bazaar
Where: The Colonial Quarter courtyard, 33 St. George St., St. Augustine, FL
When: May 31, 2014, 6-10 p.m.
Admission: Free, including pets!

Come join us ... Imagine an evening filled with fine art, unique artisan crafts, live music by studio recording musicians, belly dancers, comedy skits and mystifying magic.

Take a stroll through enchanted, torch-lit pathways, you'll likely encounter a 16th century spanish soldier and his entourage.

Sit under the 200-year-old Colonial oak tree adorned with colorful lanterns and tiny white lights while enjoying fabulous food and beverages offered by the Taberna Del Caballo.

It all takes place under the stars at The Downtown Bazaar on the grounds of the Colonial Quarter, 33 St. George St., St. Augustine, Florida, 6-10 p.m., the last...